Open ARTS Community Workshop 2017
---
Background and Scope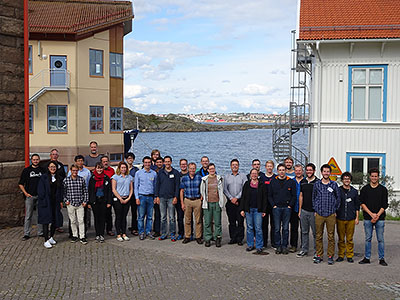 A workshop series in mm and sub-mm radiative transfer was started in 1999. These workshops were held in the Bremen area, primarily at Bredbeck. The discussion and work at those workshops had a central role in the initiation and development of the freely available radiative transfer model, ARTS. The ARTS model, the accompanying Atmlab/Qpack tools and, for the first time, the new Python toolbox Typhon were a main topic of the workshop. The second, more general, objective of the workshop is to enhance information exchange and collaboration regarding radiative transfer modelling in the mm and sub-mm frequency ranges. The content of this part depends on active input from the workshop participants.
Date and Place
The workshop was held on September 6-8, 2017 at the Kristineberg Marine Research Station.
The research station is located about 100 km north of Gothenburg.
Sponsors


Program
2017_arts_workshop_program.pdf
Workshop material
The slides of the presentations held at the workshop are
available for download
Participants
David Duncun, Colorado State University / Chalmers
David Newnham, British Antarctic Survey
Dong Wu, NASA Goddard Space Flight Center
Emma Turner, Met Office, UK
Franz Schreier, DLR Remote Sensing Tech Institute
Franziska Schranz, Institute of Applied Physics, University of Bern, Switzerland
Ian S. Adams, NASA Goddard Space Flight Center
Jana Mendrok, Chalmers University of Technology
Jonas Hagen, Institute of Applied Physics, University of Bern
Lukas Kluft, Max Planck Institute for Meteorology
Manfred Brath, Meteorologisches Institut, Universität Hamburg
Mathias Milz, Luleå University of Technology
Ole Martin Christensen, Stockholm University
Oleksandr Bobryshev, Universitaet Hamburg
Oleksii Patoka, Institute of Radio Astronomy of the National Academy of Sciences of Ukraine (IRA NASU)
Ole Martin Christensen, Stockholm University
Oliver Lemke, Universität Hamburg
Patrick Eriksson, Chalmers University of Technology
Peter Forkman, Chalmers University of Technology
Richard Larsson, NICT
Robin Ekelund, Chalmers University of Technology
Simon Pfreundschuh, Chalmers University of Technology
Stefan Buehler, Universität Hamburg
Stephen Munchak, NASA Goddard Space Flight Center
Stuart Fox, Met Office
Takahoshi Yamada, National Institute of Information and Communications Technology, Tokyo Institute of Technology
Uwe Raffalski, Swedish Institute of Space Physics
Verena Grützun, Universität Hamburg
Wang Yuke, Graduate student of Jilin University, Changchun,China